Ah, bathrooms. They are a strange space. In our private homes, we want them to be luxurious and often times spa-like. In public spaces, owners and designers tend to overlook these rooms – choosing simple no-fuss designs. A few weeks ago, I took a trip with my family to New York's wine region, specifically Seneca Lake. We stayed in a lovely rental home and visited several museums (and wineries). My family was surprised to find so many photos of bathrooms, but this should be of no surprise if you've read Kim's blog about vacation pictures. Since bathroom design has been a hot topic in the office lately, I decided to photograph almost every bathroom I came across.
The Bathrooms
I photographed five bathrooms in all. I may have left out a truly horrific gas station bathroom. Lesson learned, the exterior cleanliness of a gas station is no indication of what lays inside.
THE GAS STATION BATHROOM
As far as gas station bathrooms go, this one was pretty solid. I appreciated the full height walls on both sides and the full height metal piece at the partition wall so that a person couldn't peep through the open joint between wall and partition. I was, however, confused by the black toilet. I'm sure this was a design choice, meant to fit in with the black accessories and speckled black partition door, but I think I would have just gone with the standard white.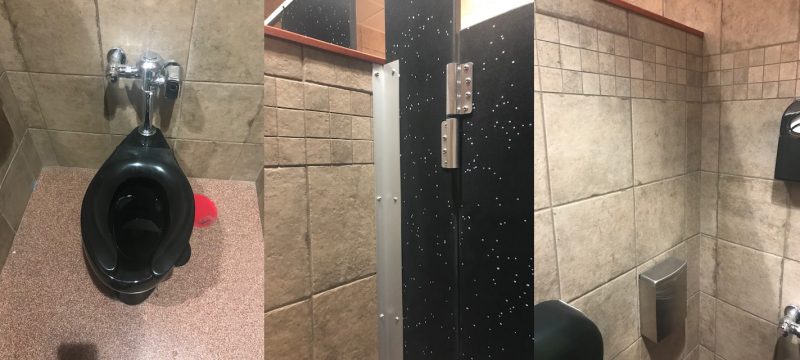 THE STRONG MUSEUM OF PLAY
To be honest, I had hoped that the designers would have a lot more fun in these bathrooms – it is a museum of play after all. I did like that they moved the mirrors away from the main sinks in order to get people through faster. They also used ceiling mounted partitions, which we like to specify in our projects for cleaning purposes.
THE CORNING MUSEUM OF GLASS
Simple and tasteful is how I would describe these bathrooms. It's obvious they didn't want to spend more money than necessary, but they also wanted durable. The simplicity of these bathrooms also reflects the simpleness of the building addition which is a white glassy box.
THE RENTAL HOUSE BATHROOM
On first glance, this bathroom was lovely. Maybe not my style, but everything I might have put on a wishlist for my own master bathroom. But upon closer inspection, I've learned a lot of lessons from this bathroom which I shall expound upon in a later blog.
THE STATE PARK BATHROOM
For a state park, this was great. Simple, bare-bones, and efficient is the name of the game.
Lessons Learned
Always provide a hook on the back of the partition door.
Moving the mirrors away from the sinks is a useful tool.
There's a time and place for interesting and/or fun bathrooms.
Even your dream bathroom has things you want to fix or change.