This past week, I've been working on a LEED project. Not schematic design or construction documents, but the paperwork side of things. While many people seem to have a general idea of what LEED is, many aren't sure, other than some green, sustainability thing. So I thought it'd be a good time to peel away from the paperwork and discuss it with all of you.
What Is LEED?
LEED stands for Leadership in Energy and Environmental Design. It's a rating system that can be applied to almost any building. While there are several rating systems of building sustainability, LEED is the most recognizable and generally accepted. It's also been used by some cities as a baseline for their own sustainability requirements.
The first step in the process is to chose which of the various rating systems our building is best suited. They include:
Building Design and Construction (BD+C)
Interior Design and Construction (ID+C)
Building Operations and Maintenance (O+M)
Neighborhood Development (ND)
Homes
For what I've been working on, Building Design and Construction (BD+C) works best since it was new building using the framing of an existing building. And for the sake of this discussion, we'll be referring to the 2009 LEED version.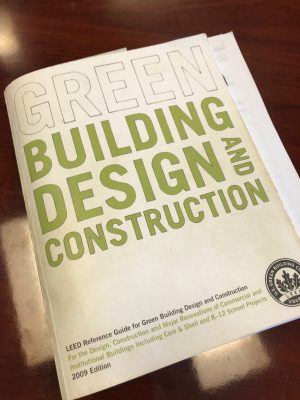 LEED Categories
LEED works on a point based system. In the Building Design and Construction group, there are six sub-categories for classification of points.
Site Selection (SS)
Water Efficiency (WE)
Energy and Atmosphere (EA)
Materials and Resources (MR)
Indoor Environmental Quality (IEQ)
Innovation in Design (ID)
The next step in the process is to complete a score sheet denoting which credits you intend to achieve. Some categories have a lot of points available.
LEED Thresholds
Each category (except Innovation in Design) has at least one prerequisite and a few credits. Credits are where you can get points – there are a maximum of 110 points. The points will show what threshold you were able to achieve in your chosen LEED rating system. BD+C has the following thresholds:
 Certified (40-49 points)
Silver (50-59 points)
Gold (60-79 points)
Platinum (80+ Points)
LEED AP
You may have seen these letters, but aren't sure what they mean. A LEED AP is a LEED Accredited Professional, that specialize in one or more rating systems. This means they have studied and taken an exam to show their understanding of the program. For instance, I am a LEED AP BD+C. So from what you've read above, you may have figured out that I'm a LEED Accredited Professional (AP) that specialized in the Building Design and Construction (BD+C) rating system.
LEEP AP's are useful in the process for a couple reasons:
They help streamline the process by reviewing credits and ensuring their completeness. This may aid in getting additional points since a LEED AP may see synergies between credits. A credit you may not have gone after previously may have a synergy with another credit you are trying to achieve – make a few adjustments and badabing badaboom you get another point! One additional point can mean the difference between gold and platinum.
You get one additional point for having a LEEP AP on your team.
MSB Architects and LEED
MSB has several LEED projects:
What do you think about green building practices and LEED? Have you been in any LEED rated building? If so, what did you think? Did you sit back and think, gee, this building is just like every other building or was it wow – what a great building! Or do you want to ponder everything and research a bit more? Below are two links so you can discover more:
United States Green Building Council
Green Business Certification Inc.
Alternatives to the LEED program:
Green Building Initiative or Green Globes Certification
Energy Star – not just for appliances!